04/03/2023
National Fair Housing Month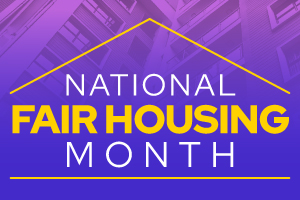 Join us in celebrating National Fair Housing Month!
National Fair Housing Month celebrates the passage of the Fair Housing Act.
Signed into law in April 1968, The Fair Housing Act was passed shortly after the assassination of Dr. Martin Luther King Jr. An expansion of the protections promised in the Civil Rights Act, it prohibits discrimination in the sale, rental, and financing of housing based on race, religion, national origin, sex, handicap, or family status.
Affordable Housing Providers have been leading the way in the Fair Housing movement since its inception. It is our pleasure to work to provide affordable housing opportunities to all within our community.
Click here for more information about National Fair Housing Month.
Click here to learn more about the passing of the Fair Housing Act.